Rock Solid 4x4 has state of the art Hunter 4 wheel alignment machine and wheel balancing equipment. HawkEye Elite® is the most powerful wheel alignment equipment on the market today, using four precision cameras to measure the position and orientation of targets mounted to each wheel using Hunter's patented QuickGrip® adaptors. These adaptors feature spring-loaded arms that grip the tire, eliminating metal-to-metal contact and subsequent rim damage.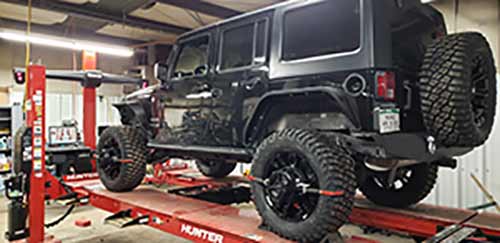 4 wheel alignment is often one of the most neglected maintenance jobs on our cars and trucks today. Improper alignment causes excessive tire wear, a pulling to one side when breaking and and the need to keep both hands on the wheel to avoid drifting. We do wheel alignments on all types of vehicles.
4x4 alignment angles can also be altered beyond the maker's specifications to obtain a specific handling characteristic. Lifted trucks and Jeeps and off-road applications may call for angles to be adjusted well beyond "normal", for a variety of reasons. This is the reason so many lifted trucks and Jeeps complain about the drivability of their vehicle. Most 4 wheel alignment techs are only able to get the alignment to manufacturers specification. Understanding the geometry and adjustment points is critical to getting a proper wheel alignment. Our shop is commited to getting your lifted truck, Jeep or SUV into proper alignment.